By Goher Iqbal Punn, Film Critic & Entertainment Analyst, Showbiz Bites
Deepika Padukone Ranveer Singh affair has been well in news and Deepika is not open at all about her love linkup with beau Ranveer Singh. But on the other hand, the guy seems quite open about talking his romance with the leggy actress. He has talked about the same in many of his interviews. It seems, he appears to be more interested in fetching the limelight through his love affairs. He was also much open with his love linkup with Anushka Sharma. This all shows the man seems quite interested in getting the camera attention and publicity through his love affairs instead of his acting prowess. Well, Deepika Padukone Ranveer Singh affair has taken a new route now that shows the two are quite in love. This also throws away the rumors about their off screen love. This is what happened that the two spent quality time together in New York on Deepika Padukone's 28th birthday (on 5th January, 2014).
Deepika spent New Year Eve with family in Maldives and then she took the flight to New York where the beau was there already, as per reports. The two went to an eatery in Big Apple where they sipped the coffee together in addition to eating delicious food. Guys, this clearly reveals that Deepika Padukone Ranveer Singh affair has been going on. As per the reports, Ranveer was more comfortable while interacting with the people out there than Deepika. Although both obliged the fans while getting clicked for photgraphs, but Deepika was a bit nervous than Ranveer.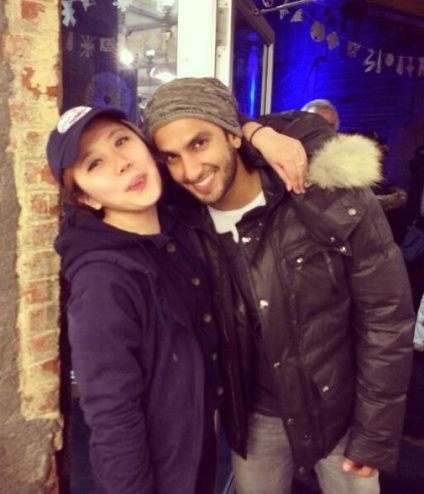 Now, see the pictures of Ranveer Singh's kissing and hugging romantically to Deepika Padukone at various occasions in public.
Ranveer Singh kissing Deepika Padukone in public – this also made quite big rounds over the web, as he was spotted kissing the dusky beauty at many occasions in public. Now, what you two (Ranveer and Deepika in particular) can hide, as the pictures show everything evry clearly. So, speak up openly now. More on Deepika Padukone Ranveer Singh affair will be published on the website once any updates arrive. Till then, keep coming to read more juicy bites and other interesting stuff on the website such as Dhoom 3 18th day box office collections, Mr. Joe B. Carvalho 1st Monday box office collections, Sridevi in a bikini and Deepika Padukone's Kochadaiyaan movie audio release date announced.